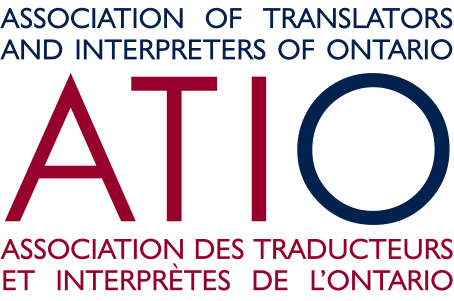 We would like to advise you of a common scam that appears to be making the rounds again: The Cheque Overpayment Scam
Find a Translator, Interpreter or Terminologist

Interested in becoming an ATIO member?

ATIO News, Events and Press Releases

Certified: A Reserved Title
In Canada, professional titles are granted and administered by provincial or territorial authorities. On February 27, 1989, the Province of Ontario assented to The Association of Translators and Interpreters of Ontario Act, granting such reserved title to our members.
Only members of our Association who are certified by our Association as a translator, conference interpreter, court interpreter, terminologist, community interpreter or medical interpreter are entitled to use the designation "Certified."
We are the professional association for translators, interpreters and terminologists in the province of Ontario, supporting and protecting the collective status, dignity and integrity of the language professions.
ATIO ensures that the public at large is well served. Through its professional standards and certification examination, it guarantees that its members' clients and the public receive superior quality work.